On this page you can read the experience of participants from a variety of the activities and retreats that have been organised by SanghaSeva since 2004. If you have been on one of our retreats we would love to hear from you again please share your experience with us
2012
Anandwan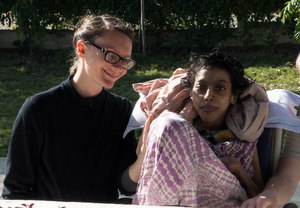 I feel so enormously blessed. I began my journey full of the 'I', and now find myself with a clear knowing of the 'us'. The experience of love & connection, friendship & compassion, both with the people of Anandwan and the Sangha, have done something to my heart I did not foresee. My heart has been nourished from the deepest of roots. I know not where the path goes next, but I am clear that it is a path of loving connection in whatever form that may be.
Xulia Duran-Rodríguez
Leprosy of the Mind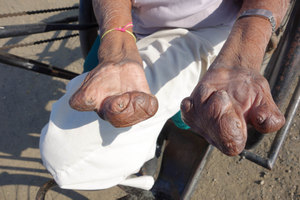 There is a gravitational pull of my heart to the symmetrically arranged wings of the home for the elderly people of Anandwan. It is a pull I cannot find any reason to resist.
Leprosy is a devastating disease, a bacteria eats away at the nervous system, which, if untreated, leads to deformity and the loss of fingers and toes. But it is not fatal and those who joined the community when young are now getting old. Everyone in Anandwan is cured of this disease for leprosy is 100% curable. Yet the older generation are often seriously affected by the disease. There are a great many people living in the old people's home without any sign of the fingers they were born with. There are many great people there loving without any resistance. I go there for both reasons.
My service was to do nail clipping, and this year it went faster than usual. I tackled the nails that due to some physiological reason had grown into something more resembling a parrots beak than a thumb nail.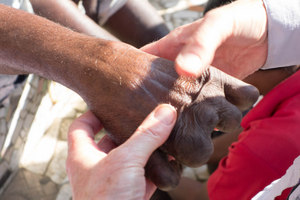 I tidied up the neglected and hard to treat fungal distortions of many nails. And I cut the well cared for and manicured finger nails of anyone who asked. It is intimate and necessary work that brings me close to people, and sometimes quite close to my edge.
When I was finished with nails, I was happy to connect to the fingerless friends who had been absent from my nail-cutting queue.
Something in me really resonated with a small stocky man with a beautiful smile and calm warmth. Leprosy and life had left him without fingers or toes, and also not many teeth. I gave him a massage each morning, my heart smiled when a really good rub would bring a smile to his face. And when we parted, he would be shining as he gave me a sweet namaste with his hands together in prayer position. I found his humility humbling.
But not everyone was so sweet, calm and easy to be with. Some people were moved by more demanding impulses, truly understandable when one considers the circumstances that brought them there. As Baba Amte, the founder of Anandwan, had said "Leprosy of the body we can cure, the bigger problem is Leprosy of the mind." It is "leprosy of the mind" that has led people to push away their partners, their children, their parents, for having a disease. It is this mind sickness that has created Anandwan's 5000 strong population of outcasts.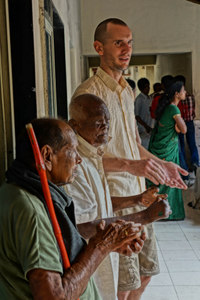 Leprosy of the mind is very common, we've all have a case of it at sometime. Whenever we close our heart to someone we are showing symptoms. Whenever we are able to love someone even when we don't like their actions we are presenting the antidote.
Luckily when we occasionally meet the edges of our patience in the elderly home we have many resources to pull on. We have freedom to not react when someone is shouting, demanding or expressing their pain at us. We have the freedom to find a wise and compassionate response. This is when we can feel why we call this a retreat. The work retreat is preceded by a week of silent reflection and meditation, and we continue to practice the same openness to what is arising while living in the community. The main difference being a change of subject; moving the focus from the internal to the external. Somehow practising openness allows acceptance of just about anything, and there is a healing in that, a lightness and a steady alright-ness. It never ceases to amaze me the healing that is not only possible but actually happens during the retreat, and not only to us retreatants but also to our friends in the community.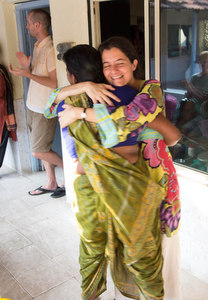 Still I was surprised to see that it had left a habitual residue that played out in our actions after the retreat also.
When Zohar and I were leaving Anandwan our rickshaw driver spotted the bus we were trying to catch pulling out of the station, he swiftly jumped out and managed to stop it. We quickly scrambled onto the packed bus with all our luggage, throwing things down anywhere while we got out the money to pay the rickshaw driver.
The bus immediately pulled out onto the road and I set about arranging our mess of things. Understandably the conductor didn't like my big bag being in the aisle. But the bus was so full I couldn't see anywhere else to put it. I gestured that my arms were full and continued to reorder our belongings to take up the least space. It was hard to even stand up let alone lift heavy bags around, but I managed to turn my bag so there was space to pass it. But he didn't want to compromise and kept barking at me "Move your bag!" I stored my guitar on the overhead rack, and handed Zohar both our small bags. Again he demanded "Move your bag!" I smiled at him, and raised my shoulders in a shrug, I didn't know what to do.
I heard Zohar saying to the conductor "It's alright darling, we're doing the best we can." Just like she would to the ladies back at the elderly home. And I found myself instinctively rubbing his back between the shoulder blades. Somehow this loosened the mood just as effectively as it had back in Anandwan. I realised suddenly we were all smiling, the conductor, Zohar and I, all of us caught off guard by the heart's natural response. In this atmosphere of lightness and love a bag here or there didn't seem to matter so much after all.
Baba was right to say "The joy of Anandwan is more infectious that the disease of Anandwan."
Nathan Glyde
Being Peace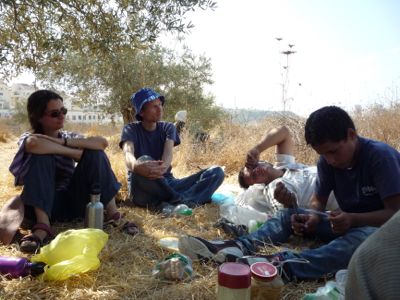 During this year's Being Peace retreat I was struck by the layers of reality that exist simultaneously. One momentary example; we rested with a Palestinian family below the trees we had picked together to take lunch. A delicious lunch of houmous, fried egg plant, that just melted sweetly in the mouth, fresh bread baked in the morning, cool salad vegetables and bowls of golden olive oil. After everyone had eaten their fill, we lay on soft dry grass turned golden by the strong sun, and to me it felt like paradise. But the sounds did not fit the scene, and if one's sleepy gaze rose from the calm connected foreground to include the whole picture, another less pleasant reality returned.
The olive grove that we were helping to harvest was surrounded on three sides by tower blocks under construction and on the forth; the separation barrier. We were in one of the few groves left by the encroaching settlement, currently encircled by a fence with a sense of impending destruction.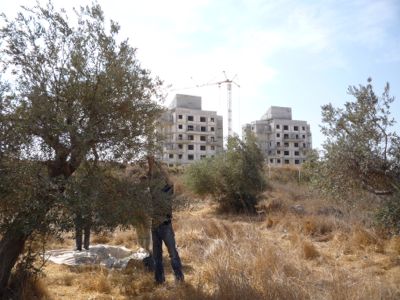 The owners of the land lived on the other side of the wall, and were granted permission to pass through a gate on the wall only 15 days a year. Even then the men of working age were refused permission to pass. The trees were suffering from this neglect. Something that became clear when I picked a well maintained tree nearer a village thus far still with good access to some of their trees.
There was something else profound that transcended the barrier separating one reality from the other. Something in the look in the eyes, a sort of sad smile, acknowledging the way things were going, and I don't know, maybe still happy to be at all, or, not taking life for granted. I can only guess, and from that guess can only be inspired by those I have had the pleasure to meet.
Nathan Glyde
Also during the retreat we were fortunate to be introduced to the small Palestinian town of Walaja. We had a harvest day there with them in solidarity of their situation, and a tour by Engaged Dharma's Aviv Tatarsky to try and get a grip of the strange situation they find themselves in. For Walaja has a sad fate; the entire village will be encircled by huge walls and electric fences 360º.
I explain in this article Walaja - Surrounded by the Separation Barrier how such a bizarre and inhumane situation can arise. Please read and share
Dharmalaya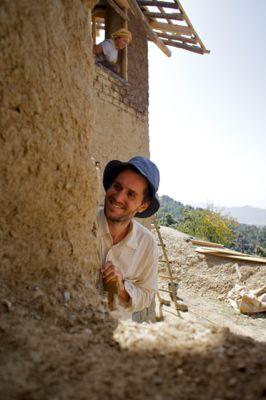 Our second retreat in Dharmalaya was a time for adding layers of loving mud to the hand sculpted centre for sustainablilty and using our connnected energies to enrich the earth by creating new beds of rich soil and manure. This is work that heals my soul and makes my heart sing, a combination of childish playfulness - rubbing wet mud on the walls, and mature consideration - supporting the building to grow from architectural designs.
Our nights were spent in tents but on comfortable mattresses. I love 1st class camping. Connected to the planet, making a minimal impact, breathing the air fresh from the grass, and still getting a really soft good night of sleep.
After the retreat we were reluctant to leave from the silence and solitude and traffic free environment of life beyond the end of the road. But I went down into the Tibetan colony an hours walk down the mountain to hear some Tibetan teachings from Tenzin Palmo, an ordained nun originally from London. She was teaching the inspiring 37 practices of a Bodhisattva. I'm convinced that every point of conflict and discord is a doorway to depth and transformation; an opportunity to change myself towards what I truly wish to be.
I am grateful that places of deep sanity like Dharmalaya exist, and I'm looking forward to spending more time there.
Nathan Glyde
Read Mark Moore's write up Dharmalaya Inaugurates Green Hq with Service and Meditation at Dharmalaya.in