What is SanghaSeva?
SanghaSeva facilitate "Meditation in Action" retreats in Europe, India and Israel-Palestine.
Our retreats integrate meditation, observation and reflection with participation in positive actions for the benefit of others and the world.
Active Contemplation
We feel that meditation, contemplation and spirituality, are not just passive and solitary pursuits, but truly blossom as active and engaged ones. Participants on our retreats get to experience the real benefit of finding ways to transform self, other and the world through engagement.
Whether we are planting trees on deforested land, openly listening to people's suffering or massaging the stiff limbs of a healed leper, love and wisdom can come through. We can bring into being and embody our deepest aspirations by being "the change we wish to see in the world". (Mahatma Gandhi)
SanghaSeva was initially born from the heart to give back to the world. Our motivation was to take the love, compassion and wisdom we could feel or sense as a fruit of solitary practice and find ways to spread these gifts outwards. Yet overtime we see more and more that our retreats are actually ways to reach these deep realisations and experiences. So rather than waiting until we feel ready, have enough, or are perfected (whatever that means), we can already use the form of interacting, sharing, and engagement to help others and ourselves.
In the words of Pema Chodron: 'we work on ourselves in order to help others, but also we help others in order to work on ourselves.'
Definitions
The name SanghaSeva is made up of two words: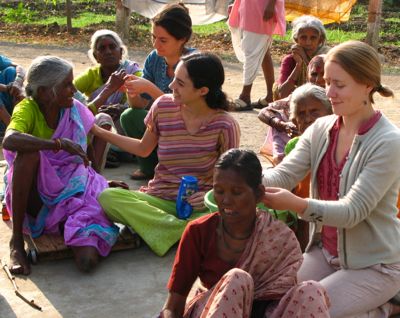 "sangha-" means a group of people who feel connected to a similar deep cause, a community of spiritual friends, a body of heartful activists.
"-seva" means offering the best we have to give. Oftentimes it is translated as selfless service: An action which benefits another as much or more than it benefits us.
In this way we are community in service; activists for a well & fair state of being. We also refer to our retreats as "Connected actions for active connection". This definition of SanghaSeva hopefully further brings the feeling of the mutuality and reciprocity between activity and contemplation. As we experience it, activity and contemplation deeply support each other. The inter-activity of being there for another or engaging in a healing task for the planet opens us to more than ourselves. Likewise contemplation, meditation and silence, opens us to the deeper, wider and more spacious possibilities of how to live. Together these call us to act with wisdom and kindness towards all beings, including ourselves.
Therefore we aim to offer opportunities to explore living fully through positive actions. Clearly this is not just an attempt to 'do good' and consequently feel better about ourselves, but rather stems from a deep wish to bring compassion and love to the suffering on this earth.
While at the same time, and hopefully from the same depth, we acknowledge that we are simply a part of everything and therefore growing, learning, and evolving through the process of sharing. Our mutual humility in this exploration is what facilitates us to allow life to unfold as it is. This brings an openness on the path of discovery, the healthiest approach of all. Living fully, discovering openly, and being of help, were probably some of our initial motivations to start asking the deeper questions of life in the first place.
We feel that by utilising the wisdom of contemplative practices we can touch into that which connects us all. When we can act from there we find that we have more freedom to hold conflicting views and opinions, have more space to allow life to unfold, and more wisdom to find the appropriate response.
The Retreats
In our retreats we are called to explore our balance of being and doing, to investigate what is really helping, and to expand our boundaries. Its our wish to widen our circle of friends and what in life we can let into our hearts. In this way we feel we are offering a continuation of the deepening of meditation, contemplation or spirit; of being open, in life, to life, in all its joys and sorrows.
These retreats can be fruitful and transformative, not least because they challenge our edges.
We find the loving patience that helps us to connect and stay steady with ourselves in contemplation, allows us to be fully with others, and with the world. And in a beautiful reciprocal way as we become more intimate with others we can find new depths of intimacy with ourselves.
Going Forward
Although we can each do service work separately we are drawn toward developing an active sangha, whether on retreat or continued connection outside of them. Nourishing each others path, and encouraging each other in developing generosity, we become more than the sum of our parts.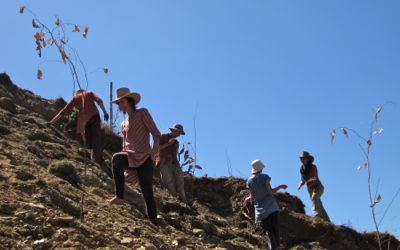 Transforming an idea into reality can take many forms. We aim to offer opportunities around the world for practicing dharma in action on both social and environmental projects. We are also happy to support and encourage more ideas and initiatives, so that we may be a nursery for positive actions.
If you would like more information about any of our projects or help and support creating your own please contact us
SanghaSeva is a not for profit collective of volunteers.
If you would like to offer financial support you are welcome to visit our donate page.
If you would like to offer your time please contact us
About the Facilitators
On SanghaSeva work retreats we choose to have facilitators rather than leaders or teachers. A facilitator will hold the structure of the event to allow all of us to find our own way as individuals and as part of the group.
Our Facilitators
Zohar Lavie
Zohar has been practicing meditation in different traditions since 1995. This journey has taken her from the meditation cushion into exploring further ways of expressing truth and love and in 2004 she cofounded SanghaSeva. She now spends most of her time facilitating retreats that offer service as a spiritual path around the world. Since 2006 she has been teaching on silent retreats and Dharma gatherings in India, Europe and Israel.
Nathan Glyde
Nathan began meditating in 1997 and has been teaching on silent meditation retreats since 2007.
From a continued exploration of meditation on silent retreats grew a deep love of silence and the power of stillness. The realisation of the potential of every moment to become a moment of awakening provoked an exploration of meditation in daily life activities. An urge to offer retreats that offer deep connection in an active life led to the initiative in 2004 of SanghaSeva.
Kirsten Kratz
Kirsten has been practising Insight Meditation since 1993, and has been facilitating and co-leading Dharma events in England and in Europe since 2000. She has also been assistant-teaching retreats at Gaia House since 2008. One of her particular areas of interest is the exploration of the nourishing and expression of our Dharma understanding outside of a retreat environment. In 2006 Kirsten began facilitating on SanghaSeva retreats.
Rob Burbea
Rob has been practising and studying Buddhist meditation and Dharma since 1985 with a variety of teachers in England and in the USA. He has been teaching since 2004 and is currently Resident Teacher of Gaia House and a member of the Teacher Council. He is a cofounder of SanghaSeva.
Chris Cullen
Chris has been practising Insight Meditation since 1996, and has recently starting teaching. He is a graduate of the Community Dharma Leader Program at Spirit Rock Meditation Center in the US, and trained as a Dharma teacher with Christina Feldman. He teaches at a secondary school in London and is cofounder of the Mindfulness in Schools Project. He is Chair of London Insight and has been involved in SanghaSeva since 2010.
Ian Davidson
Ian lives in, and co-runs, Moulin de Chaves; a meditation retreat centre in France. His full time commitment is to spiritual practice and making retreats available for those who wish to do them. Ian has facilitated the TFL reforestation work retreat in Scotland every year since 2005. His practice began in a monastery in Thailand 12 years ago and he is a student in the Ridhwan school, diamond approach of A.H. Almass.
Caroline Jones
Caroline has been practising meditation since 1989. She started teaching in 2006, and now teaches at Gaia House and internationally. She has also covered periods at Gaia House as resident teacher.
Join Our Mailing List